Non-Toxic Cleaning Remedies - Shaklee Basic H Solutions
In Missouri, farm life and access to rural fresh air, sunshine, and natural foods is more common. And having lived in California where nutritional supplements abound, it showed me what "big city" survival meant - dealing with Concrete, Asphalt, and noxious fumes daily - which means vitamins are a necessity...
In the average household (or apartment) one would wonder when you keep around cleaning chemicals which are toxic to adults and say "keep out of reach of children" - that you woudn't store them under the sink where our children can get at them. And even common chemicals like bleach and ammonia - which can each blind a person and interfere with breathing, which together create a toxic gas which can kill in minutes - would be kept stored far from each other and in a secure location where accidental leaks can't enter our home breathing spaces.
One would think that is common sense.
What if we didn't have to use these to clean with at all?!?
Consider this picture: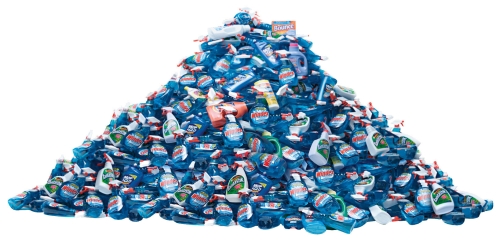 Cost? Around $3800 retail, plus landfill costs and toxic dump special procedures (if anyone reads labels.)
Now look at this picture:
Cost? Around $200. This kit replaces all the mountain of toxic cleaners above. Really. And it's biodegradeable, safe, and takes only a tiny fraction of space in a landfill - unless you carefully recycle the plastic after you rinse out the bottles (impossible without polluting when you attempt with the mountain of toxicity above it.)
Next, a couple of video's to consider:
And:
Your choice in this would seem to be completely obvious.
To get your own kit (and plenty of more information about it) visit the Get Clean site.