How to Use Basic-H Concentrated Soil Conditioner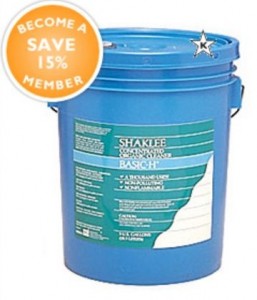 This article on the use of Basic H as a concentrated soil conditioner came from a promotional flier which may have been published as late as April 1994 when Basic H was marketed as a Soil Conditioner. It is no longer advertised in that way, although the same formula is available today in 5-gallon and 30-gallon containers. Note that the newer Basic H2 is a different formulation and doesn't have the same anecdotal support.
The formulas have been extracted and edited for greater understanding and ease of reading only. Posting these on the web is to recover this knowledge for general use and application.
For Irrigated Agriculture - For overhead sprinkler, flood or furrow irrigation, employing any suitable injection system, use one gallon of Basic-H Soil Conditioner per acre of soil. Take care not to apply the Basic-H mixture directly to growing plants other than grass.
Basic-H may be injected into irrigation systems by eductors, aspirators or by the use of any positive displacement pump. Mixing will occur in-line and should pose no problems. When mixing with liquid fertilizers, a test batch is recommended to check for gelling or crystallization. Do not attempt to mix Basic-H and anhydrous ammonia as they are not compatible.
For Other Applications Including Control of Soil Erosion - Mix 1 gallon of Basic-H with 40 to 50 gallons of water, then apply directly to 1 acre of soil with a sprayer or other suitable field applicator. The Basic-H Concentrated Soil Conditioner will be transported down into the soil by the next rainfall.
Please note-We do not recommend reducing the amount of water you use or changing your irrigation frequency and farming practices. Used properly, Basic-H Concentrated Soil conditioner may be an aid to better irrigation and crop management. Adjustments should be carefully considered only after properly field testing Basic-H under the unique conditions of your own soil, crops and farming practices.
Basic-H Concentrated Soil Conditioner is not a substitute for water or other good irrigation and crop management practices. At all times. careful attention should be given to the moisture content of your soil. A suitable device for monitoring soil moisture is recommended. Do not apply directly to growing plants or allow drift to growing plants during application, or crop damage may result. The use of Basic-H Concentrated Soil Conditioner, and the results you obtain, are dependent on many variables that change from farm to farm and crop to crop.
These include the soil type, water quality (pH and inorganic salt content), climate, agricultural history of the soil (crop and tillage history, plow pan and hard pan formation, etc.), the amounts and types of previous fertilizers, pesticides and herbicides used, irrigation systems used, and crop types and varieties. Only you can accurately determine how to farm your own fields effectively and efficiently. How long Basic-H remains effective depends largely on the same factors and variables that determine its initial effectiveness. A second application after two months is suggested. Adjust this as appropriate for your individual conditions.
Basic-H Concentrated Soil Conditioner is biodegradable and will not harm your land or crops when used as directed. At the recommended application rates with appropriate dilutions, Basic-H Concentrated Soil Conditioner will not adversely affect seed Germination, root development, soil pH, nutrient status of soil or nutrient uptake from soil. Shaklee U.S., Inc. makes no claims for Basic-H Concentrated Soil Conditioner as a nutrient release aid or fertilizer, or as a spray adjuvant, pesticide, herbicide, or rodenticide.
Available in 1, 5, and 30 gallon sizes
Guarantee If for any reason a Shaklee product is not satisfactory, return it to your Independent Shaklee Distributor or Shaklee U. S. Inc., for exchange or full refund.
For information about our complete line of Shaklee Home & Garden products, ask your independent Shaklee Distributor.
---
More information about Basic H is available as linked below: 



Efficient, powerful, safe, biodegradable, and economical, the world's most versatile cleaner.

Size: 30 gallon




Tackles over 40 microbes, including several animal viruses. Excellent choice for use in the kitchen, bathroom, or pet area. EPA registered

Size: 32 oz.




Efficient, powerful, safe, biodegradable, and economical, the world's most versatile cleaner.

Size: 5 gallon