How To Use Basic-H as a Concentrated Soil Conditioner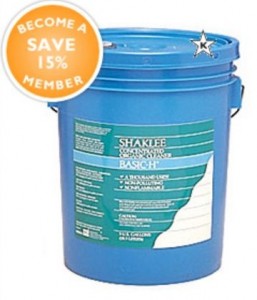 This article is from "Basic-H Concentrated Soil Conditioner California Information Guide", circa April 1983, apparently by Shaklee, when Basic H was marketed as a Soil Conditioner. It is no longer advertised in that way, although the same formula is available today in 5-gallon and 30-gallon containers.Note that the newer Basic H2 is approximately twice as strong, but only comes in 32oz. and smaller bottles. So adjust your formulas accordingly.
The formulas have been extracted and edited for greater understanding and ease of reading only. Posting these on the web is to recover this knowledge for general use and application.
Large Scale Agricultural Operations For Irrigated Agriculture
For overhead sprinkler, flood or furrow irrigation, employing any suitable injection system, use 1 gallon of Basic-H Concentrated Soil Conditioner per acre of soil.
For Other Applications, including Control of Soil Erosion
Mix 1 gallon of Basic-H with 40 to 50 gallons of water, then apply directly to 1 acre of soil with a sprayer or other suitable field applicator, taking care not to apply the Basic-H mixture directly to growing plants. (For some sprayers the amount of water you need for uniform application may be less than 40 to 50 gallons. However, if you use these sprayers, be sure to take extra care to keep this highly concentrated mixture from contact with plants.) The Basic-H will be transported down into the soil by the next rainfall.
Residential Use
Mix 3 fluid ounces of Basic-H with 10 gallons of water for every 1,000 square feet of soil. Apply directly to area and immediately irrigate in with 1-2 inches of water. Or use a sprayer attached to your garden hose and set the sprayer at the appropriate application rate.
While care should be taken not to apply the mixture directly to growing plants, it can be applied to grass, which has been shown to be undamaged by Basic-H at the suggested dilution. The Basic-H solution, which is a soil conditioner, should be applied to the soil before plants appear, to the bare soil between plant rows, or to areas where there are no plants other than grass.
With all of these methods, be sure to clean drums, sprayers, and any other equipment thoroughly before using them to apply Basic-H. Basic-H Concentrated Soil Conditioner itself can be used for cleaning this equipment because it's the original Basic-H formula widely recognized for its concentrated cleaning power.* Used at the recommended application rates with appropriate dilutions, Basic-H Concentrated Soil Conditioner will not adversely affect: seed germination, seedling root development, soil pH, the nutrient status of the soil, or nutrient uptake from the soil.
*A popular method used by Shaklee Sales Leaders is to fill to 80% capacity with water. Add 1 quart of Basic-H. Drive the equipment around the yard a few times so that the liquid is splashed against the inside surfaces. Let the liquid stand overnight. Drive the equipment around a few more times the next day, drain out the liquid and rinse with water.
What Basic-H Concentrated Soil Conditioner Doesn't Do.
The claims Shaklee Corporation makes for Basic-H Concentrated Soil Conditioner are solid, backed by years of research and study.
Shaklee Corporation makes no claims for Basic-H Concentrated Soil Conditioner with reference to crops, growth response, or crop yield; as a nutrient release aid or fertilizers as a spray adiuvant, pesticide, fungicide, herbicide, or rodenticide.
Basic-H Concentrated Soil Conditioner - an effective SOIL WETTIMG AGENT with the research to back it up.
Basic-H Concentrated Soil Conditioner - Because Water Costs More Than You Think
The amount of water in soil that is available for use by plants, called "available water," can limit your farm's production more frequently than any other factor. In fact, it's been said that more than half of all irrigated farms suffer reduced crop yields from the inefficient use of water. And despite its importance, a great deal of the water used on farms is wasted.
Taking water for granted can cost us plenty in other ways, too. Americans pump more than 339 billion gallons of water every day, mostly for agriculture. In many areas, more water is pumped from underground reserves (aquifers than nature can replenish, resulting in a deficit. This causes water tables to fall, and aquifers can actually collapse from the weight of the earth above. When water tables get lower and lower, the land can subside, or sink, at alarming rates. Many parts of the country are losing valuable farmlands as the depletion of groundwater resources threatens irrigated agriculture.
Pumping costs skyrocket as energy prices soar. From 1970 to 1990, average energy costs for pumping water have increased more than six-fold. In some areas, irrigation pumping can account for as much as one third of a farm's operating expenses. And the costs are getting higher.
Water is still cheap in some places, especially where public agencies subsidize irrigation projects. But tomorrow, water will be an expensive, scarce resource. With Basic-H Concentrated Soil Conditioner, you can improve your profit picture today, and be ready for tomorrow.
---
More information about Basic H is available as linked below: 



Efficient, powerful, safe, biodegradable, and economical, the world's most versatile cleaner.

Size: 30 gallon




Tackles over 40 microbes, including several animal viruses. Excellent choice for use in the kitchen, bathroom, or pet area. EPA registered

Size: 32 oz.




Efficient, powerful, safe, biodegradable, and economical, the world's most versatile cleaner.

Size: 5 gallon