Agricultural Uses - Basic-H as a Concentrated Soil Conditioner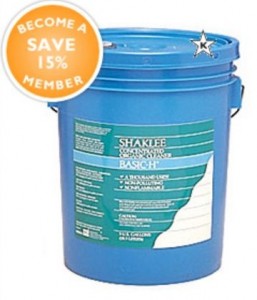 This article was derived from a little-known "Red Book" which was apparently published in the 1980's by "Conservation Update Publications, Inc." P. Q Box 2356, Green Bay, WI 54306, (404) 497-3668. Little is known about the C.U.P. at this time.
While Basic H is no longer advertised as a soil conditioner, the same formula is available today in 5-gallon and 30-gallon containers.Note that the newer Basic H2 is approximately twice as strong, but only comes in 32oz. and smaller bottles. So adjust your formulas accordingly.
The formulas have been extracted and edited for greater understanding and ease of reading only. Posting these on the web is to recover this knowledge for general use and application.
Basic-H Soil Conditioner in Agriculture
On the following pages are testimonials and experiences of distributors living throughout the United States on the results of their uses of BASIC-H. Keep in mind that this booklet is not official literature, but merely a guide to be used for informational purposes. Thea results are from personal testimonies only. This program is not authorized by the Shaklee Corporation and we and they do not assume any responsibility for the results
TEST DATA FROM FARMER'S ACROSS THE COUNTY
Brent McMeen, Route #1 Box 141, Trivoli, Illinois 61569, (309) 568-2258
I have been using BASIC-H on my farm for the past two years. l farm four hundred acres with my father in Peoria County. The fate land is a heavy black gumbo type soil.
Corn on Bean Ground - 1978 Crop
1/2 pint BASIC-H with 10 gallons of water per acre incorporated into the ground with the herbicide. Yield was 160bu. of corn per acre
1979 Crop
1/2 pint BASIC-H with 10 gallons of water per acre. l lowered the rate of herbicide to 2.6 pints of Aatrex 4L and 3.3 pints of Sutan per acre. Weed control was good. This was a very dry year in our area. Corn yielded 175 bu. per acres.
No BASIC-H used - all other factors the same. The corn yielded 170 bu. per acre. Weed control not as good.
One pint of BASIC-H per acre with 10 gallons of water. All other factors the same. Yield was 185 bu. per acre at 15.5% moisture. Wee control was good.
The ground was fertilized with 200 pounds of Diammonium phosphate, 200 pounds of potash and 150 pounds of Anhydrous ammonia both years.
Also this year during the dry weather our neighbors corn leaves were curling, but ours looked normal. This past year has been the bee year we have had.
Beans on Corn Ground - 1978 Crop
1/2 pint of BASIC-H per acre with 10 gallons of water incorporated into the soil with Treflan and Lexone. Beans yielded 51 bu. per ace
1979 Crop
One pint of BASIC-H with 10 gallons of water per acre. Same herbicides used with a 10% reduced rate. Good weed control. Yield we 55 bu. of beans per acre.
Tom Moons, Dairy and Crop Farmer, Granger, Washington
According to Tom, BASIC-H apparently breaks down cow manure as nitrogen fertilizer does. He hasn't used any chemical fertilizer a his farm for two years on his pastures. Fourteen years ago in 1 968 he did n't use any chemical fertilizer i n the sum mer to save money (his milk barn burned down), but that summer the grass just didn't move any more in August. The pasture just stunned. But in 1980 for juts $7.50 an acre, he had tremendous growth in the summer and especially that fall. In 1981 the results were even better.
For just $12.50 per acre that year (three applications by sprinkler system and real irrigating) he pastured from 60 hd. to over 150 hd. in the summer on 41 acres.
On top of that, he cut 21 tons of grass hay (14.36% protein) on a seven acre piece that was part of the 41 acres. These pastures receive barn manure once every five years on a rotating basis.
SUMMARY of # of head per month INCOME at 40¢/hd./day on that pasture: (41 acres total)
APRIL 1-3041 acres 65 head $ 780.00
MAY 1 -3134 acres 128 head $1587.20
JUNE 1-3034 acres 152 head $1824.40
JULY 1-3141 acres 136 head $1686.40
AUG. 1-3141 acres 129 head $1599
SEPT. 1-3041 acres 80 head $ 960 ~
OCT. 1-3141 acres 66 head $ 8184
NOV. 1-3041 acres 54 head $ 3243
INCOME from pasturing heifers$12,495.60
from grass hay 21 tons @ $60.00/ton$1,260.00
TOTAL $1 3,755 6
EXPENDITURES for pasture $510.00
from BASIC-H 52 gallons $800.00
from machine hire for barnyard manure$1,310.00
TOTAL NET FOR 41 ACRES $12,445.60
***** THIS MAKES OVER $300 PER ACRE NET
(All were bred Holstein heifers from 900-1300 lbs. belonging to The Cow Palace, John Prins, Roger Marx, and Tom Moons.)
Henry J. Frank, Hog Farming Applications, Morton, Minnesota
Mr. Henry J. Frank is an operator of an 88~acre farm, and the possessor of the most modern hog farrowing installation in the State. His experiences with Shaklee products herewith follow: his hog farrowing unit is 3,456 square feet in size. It is equipped with twenty farrowing units; floors are concrete throughout; hogs can be born, raised and finished in this unit without ever leaving the building. This is important, because hogs easily contract any number of diseases. One of these diseases, Mr. Frank indicates, which is almost impossible to eradicate, is the "scours," a diarrhea-type affliction that results in slow weight-gain, or death. The hog environment, consequently, must be kept clean and sanitary. No one is allowed to enter Mr. Frank's hog building at any time, except for a definite purpose. The building is constantly ventilated.
Mr. Frank indicated that the elimination of scours is impossible, however, with the use of Shaklee BASIC-H and BASIC-I, he has been able to effect a 25% reduction of this affliction. In an operation that produces 100 marketable hogs a month, this represents considerable financial advantage.
Mr. Frank also indicated that he has allergies, but with the use of BASIC-H and BASIC-G, his skin has not been affected. He believes that the purity of Shaklee products, concentrations, and economy are outstanding values. He uses BASIC-H for spray applications, and he appreciates the safety, reduction of odors, and effectiveness of his herbicides and fertilizers when used with BASIC-H. Iodine, used as a disinfectant, is irritating to his skin and can be toxic in concentration, over a period of time, to both humans and animals. He believes that the principal advantage of Shaklee products are purity, concentration, organic, economical, versatility, and bio-degradability.
Robert Lyons, Sycamore, Ohio
I put 60 gallons of BASIC-H in my 130,000 gallons manure pit to emulsify it. Hauling it out to the hay field in 3,000 gallon loads for 2 acres = 1,500 gallons to the acre of this mixture = 1 1/3 gallons BASIC-H per load = almost 3 quarts of BASIC-H per acre. ideal time to apply is on cloudy days or evening to avoid evaporation before it penetrates the soil and makes water 200 times wetter so you get results sooner, and better results without rain than usual fertilizer because of water being used with the BASIC-H.
I used no chemical fertilizers and I am cutting the second cutting the first week of July. This is the first year I saw Timothy grow faster and taller on the second cutting than Alfalfa, so I am getting more tons per acre. The first cutting tested 19.5% protein on a dry basis; other years it tested 12 or 13% protein and the second or third cutting was 17.5%.1 expect this years second cutting to test over 20% protein. This will cut grain cost this winter because of more protein in the hay and should give a better butterfat count daily. My soil was drying because of the chemicals; now it is coming to life and the valuable worms are returning.
If no manure is used, put 2 quarts of BASIC-H to 60 gallons of water per acre at least; could use 3 quarts after each cutting for hay.
Use 1 quart of BASIC-H to 200 gallons of water with 1/2 of the usual amount of chemical weed killer to foliage spray the corn. Better corn crop and excellent weed control. Best results if sprayed before a good rain. Spray this 50-60 gallons per acre.
For corn, more nitrogen, phosphorus and potash is needed; that is why I use 1/2 of the usual amount of fertilizer. If you can get a liquid organic fertilizer, this works best. However, chemical fertilizers do work. If liquid organic fertilizer is used, it can be mixed with BASIC-H and water solution. This might cause soft soap beads to form but I feel this will not plug up the sprayer. l noticed the hay had more and Anger roots, therefore, it can get more moistures and nourishment. Also, we didn't have any Alfalfa weevil problems this past year. BASIC-H will emulsify crops.
I do not know whether your neighbor can agitate his manure or not. As we put our BASIC-H into our pit, we agitate the pit at the same time. It gets the solid manure into a liquid form in less time and makes pumping easier. Makes manure wetter, therefore it breaks it down to a liquid better. Our manure pit is 10' deep, 30' wide and 60' long. Manure is pushed in at one end and our pump is in the middle on the other end.
Joseph W. Mueller, 180 Acres, 110 Head Cattle, Chllton, Wisconsin
First experience in'76was 64 acres with 2quarts BASIC-H to 4O gallons water. Alfalfa was about4-6 inches high growing second crop in very dry, hot summer weather. No rain on second crop, but was ready to cut at 28days in 1/10 bloom. First crop had averaged about 70 bales per acre over my entire farm. Harvested 85 acres 1 st crop hay with no BAS I C-H applied. Second crop averaged 75 bales per acre on the H applied 64 acres. Others in the area had none to cut - droughted even though heavy amounts of regular fertilizer were applied. Those fields turned brown. My fields that had no H averaged 30 bales per acre from the manure that was hauled after 1st cutting was removed. Protein content was as high as 22.5°h from BASIC-H fields, 18.9% on other hay. 3rd cutting was made on 64 acres 50 days after 2nd crop - some rain gave important growth assistance. The BASIC-H applied fields averaged 60 bales per acre. 21 other acres averaged 25-30 per acre.
Cost of the BASIC-H was about $250.00 plus water pumping. Most others had to buy hay for$80 to $100 per ton.1 figure the BASIC-H was then worth about $90 to $100 per acre or around $6,400. If I had not gotten the crop I did with BASIC-H, maybe $2,500 to $3,000 would have been spent to buy feed for my dairy herd.
The BASIC-H loosens the soil so water will reach down into the soil faster to hold moisture better in dry weather. Soil is grease based, so the H breaks down the surface tension of the water allowing it to penetrate faster, and also seemed to allow many more soil minerals to become available for plant growth in a very natural way. This healthy soil invites earthworms to permeate more easily as they spread throughout the soil. Manure can be applied or organic fertilizers to replenish minerals and organic matter back to the soil.
Controlling weeds with BASIC-H as a surfactant appears as good or better than when crop oil is used. Cost of the BASIC-H is only about one half of the oil-treatment. BASIC-H keeps equipment clean and does not affect people or clothing with offensive odors like oily
Paul Stump, Union, Ohio, BASIC-H for the Farm
This is written to share my experience using BASIC-H with others. l have used BASIC-H the past 2 years and I am satisfied with the results (approximate time frame 1975).
I use 1 pt. BASIC-H with 40 gallons of water per acres as a fertilizer. l sprayed my corn as soon as possible after it was planted. l believe BASIC-H as an organic material, opens the ground pores and lets water soak away fast in wet weather, and holds moisture in dry weather, also making the nutrients i n the ground more readily available for the plant. l have not used any commercial fertilizer the past 2 years with good results. Last year I had corn that made 120 bushels per acre with no fertilizer.
I do not use chemical sprays on my farm, but I do farm land for another man and he wants me to use sprays. For spraying, l use 1 pt. BASIC-H per acre with my sprays as long as I use 20 gallons or more water per acre. For 2-4-D or other sprays, when I use less than 20 gallons water per acre I use l/2 pt. BASIC-H per acre. l also cut the amount of chemical in half, thus saving a lot of expense. l have used BASIC-H with Lasso, Amiben, Atrazine, and 2-4-D with good results. My soybeans made 61 bushels per acre last year!
I sprayed my alfalfa the middle of April and the first week of May with 1 pt. BASIC-H to 40 gallons water per acre and had no sign of alfalfa weevil or spittle bug. As soon as the first cutting was made, l sprayed it again. l had the nicest alfalfa that I had in years and the cost was a little more than 50¢ per application, per acre.
I also sprayed my oats and wheat this spring with BASIC-H (results will follow). l find that using BASIC-H with my spraying keeps the chemical sprays in suspension and I don't have plugged nozzles. This alone is worth the cost of using BASIC-H - the results are extra benefits.
I use 1 gallon BASIC-H per 6-8 gallons of water as a fly spray for cattle.
Medrich & Sandra Morris, Rt.1 Box 40, Power, Montana 59468, 467-2995, BASIC-H and Grain
We shared how to use BASIC-H on grain. A dist. in Rudyard, Montana, used a pint of BASIC-H per acre on winter wheat last year with the following results.
He had this flown on with a plane using only one gallon of water & 1 pt BASIC-H just before a rain. He sprayed every other strip to get a good test putting it on one & leaving one. He took samples of every strip & ran protein tests. His protein ran from 1/2 a percent to 2 percent more on every strip with BASIC-H. Actually, out of 7 strips, only one was at 1/2 percent; the rest were 1 or more.
His yield ran from 2 bushels to 10 & above over the strips without BASIC-H. This ground did not have commercial fertilizer on a
Paul Salng, Hoaz, AL
In 1981,1 used BASIC-H as a soil conditioner and wetting agent. By using BASIC-H as a soil conditioner, l am convinced it paid d very well as we had a five to six week dry spell during May and June and I averaged 28-37 bushels per acre. Farmers in the area, not using
BASIC-H reported 15 to 25 bushels per acre.1 plan on using BASIC-H on my entire 1,W0 acres of soybeans in 1982. I think it is just what farmers need in this area and drought areas to be able to stay in business.
Helen and Esrl CoHey, Siiverlon, Oregon
We did an experiment with some hay this year, it is grass on a 4-acre field from which we got 160 bales of hay last year. We put one ton to the acre of chicken manure and one quart of BASIC-H to 20 gallons of water per acre. Our yield was485 bales of hay off of the4 acres.
Ken Moore, Hudaon, Mlchigan
I have used BASIC-H for about 6 years with much success on weed control and insect control on potatoes. 1981 was the first year I successfully raised 100% organic potatoes. l have several test strips using BASIC-H on farms I rent.
Lloyd Smith, Aiierton, Illinois
1980 beans: one quart BASIC-H per acre. One bu. bean increase with check strip. Corn: Pioneer Seed Com,1 quart BASIC-H per acre with 28% solution, 18 bu. yield increase. Neighbor: same seed, same fertilizer, planted same day, no BASIC-H, no increase.
Don Fredenberg, Soiway, Minnesota
Last year I treated my seed oats with BASIC-H. Having had many inquiries and long distance phone calls, I've decided to put this information down on paper.
Using a grinder-mixer, my wife and I applied one pint BASIC-H directly to each bushel of seed oats. No water was added. Let mix thoroughly. Then I transferred the seed to a grain box and let sit for about 3/4 to 1 hour. Then the seed was put directly into the drill. l planted 2 bu. per acre.
The oats came up beautifully, but when they were about 6 to 8" high, l found I had a weed problem. Not wanting to spray the weeds, l decided to do nothing at this point and see what happened. The weeds stopped growing and the oats continued to flourish.
To compare, my neighbor had a field of oats directly across the road, which had dried up patches from not enough rain and mine was all even with no patches. The BASIC-H oats seem to hold the moisture. My field had dark green waxy looking leaves. If elf I had a better yield than previous years. No fertilizer was applied - not even barnyard manure.
I had my oats tested and the protein content was 13.8%. The average protein content for our county is 12%.
Bob Gossen, How to Mix BASIC-H With Chemicals
Mr. Gossen suggests when mixing BASIC-H with chemicals, always put the BASIC-H in last.
1. Fill the tank with water.
2. Add the chemical and mix.
3. Pull off a gal of the above mixture and put some BASIC-H into the solution.
4. If the addition of the BASIC-H did not cause the mixture to congeal, then,
5. Add the proper amount to the larger (spray) tank, (most of the older fertilizers are compatible with BASIC-H. It is some of the newer chemicals that cause the BASIC-H to congeal. Such as Prowl.) BASIC-H an ideal Wetting Agent: in your herbicide and insecticide spray. 1/2 cup added to 300 gal of water allows you to cut your concentration by 1/4 to 1/2 the amount. It keeps the nozzles clean and gives you much more effective killing power.
Seed Treating Application: Can be used on oats, wheat, corn, alfalfa, soybeans and milo. Treat with 1 pint to the bushel. Put right on the seed - as long as you don't exceed 1 bushel to the acre in planting.
Results: Greater root development. Faster emergence. Stands cold weather better, also getting better nutrients.
Ernest & Leland Priebe, Grain Farming Applications, Hadley, Minnesota
After studying Minnesota extension-service reports on surfactants vs. oil for weed spraying, they tested BASIC-H made by Shaklee.
"We sprayed 120 acres of corn with two to three pounds of Aatrex and one pint of BASIC-H per acre the first week of June. We cultivated the corn once in order to loosen the soil. The corn remained very clean. This had been idle acreage for years.
"We sprayed forty acres with the use of an airplane because it was too wet to work in the field with our ground-sprayer. There was an excellent kill on that, also. When I cultivated thirty acres of it, I didn't see a weed. This thirty acres had been in corn previously and had been very weedy. There was no come back problem here, either. The remaining ten acres were never cultivated, but stayed very clean. This ten acre as had been pasture land the year before, yet there was no comeback of grass.
"Our neighbor sprayed his corn with the same Aatrex, four pounds per acre and three gallons of oil. The results were not as good.
"We sold five gallons to our uncle. He sprayed thirty-five acres with three pounds Aatrex to one pint BASIC H per acre. He was very satisfied with its ease of use and the results.
"Ease of use is just as good as the results. There is only 1/8 the volume, and it is also a cleaner instead of a pollutant. All parts of the sprayer are cleaned as they are used, and the familiar smell of oil is not present. This helps to keep the odor out of work clothes. Another plus is that BASIC-H is less expensive to use than oil. We are very satisfied."
SUMMARY AND NOTES:
1. Weed-control using BASIC-H as a surfactant appears as good or better than when crop oil is used.
2. Cost of application is considerably less, ranging from 1/2 to 3/4 of oil treatment.
3. Bulk-transfer to the farmer or pilot IS 1/8 as great. One pint per acre is adequate.
4. BASIC-H does not permeate, with offensive odors, clothing or the human body.
5. BASIC-H keeps spray-equipment clean.
Larry Edmunds, Rt. 3, Palmyra, Missouri 63461
These notes were taken from Larry on personal experiences with the BASIC-H after using it for 4 years. Remember, these were taken from personal experiences and no claims of any kind should be made regarding the use of BASIC-H in conjunction with agricultural herbicides or pesticides.
BENEFITS AND DIRECTIONS FOR USE OF BASIC-H IN SPRAYING:
1. It reduces the cost per acre because the amount of herbicide and insecticide can be reduced 25 to 30% with same effectiveness.
2. It lubricates the sprayer parts and nozzles, reduces clogging and eliminates corroding and rusting.
3. BASIC-H makes water up to 200times wetter, thus making the herbicide more potent by soaking into the plants and ground faster. It cuts the wax on the leaf of a weed, thus allowing the herbicide to be taken into the weed more readily.
4. Another benefit in using BASIC-H in solution and less herbicide in areas where crops are rotated, is that it lessens the danger of the residue killing the following crops or seeding, by making the herbicide more available immediately. MIXTURES FOR USE WITH ATRAZINE, AMIBEN, ETC., FOR ROW CROPS:
Recommended Amounts: By using 2O gal tips on sprayer, 10O gal of material will covers acres. Larry uses 1 qt of BASIC-H to 100 gal of water-herbicide mixture.
Band spraying: Larry uses 1 qt BASIC-H to 125 gal Ion solutions. Good results have been obtained by cutting the amount of Atrazine.
Spraying cattle, hogs and poultry with insecticides: Larry uses 1 qt BASIC-H to 100 gal of water with a little less insecticide than normal. Since wetting action is faster and more complete, less time and solution is needed to do the job. This is very effective with insecticides in spraying poultry because the BASIC-H penetrates the oils of the feathers faster.
Spraying buildings: Larry uses 1 qt of BASIC-H to 100 gal water and normal amount of insecticide. The dry-dry dust that usually beads the water will become wet and can be washed down.
General information: Larry has found when you are using BASIC-H for the first time in a used tank sprayer - do the following first:fill tank about half full with water, put in 1 pt of BASIC-H, try to mix liquid around in tank good because the BASIC-H seems to clean corrosion and dirt from the tank. After it is mixed well, run all mixture out of tank. By doing this you will clean the tank and nozzles and then you should have less nozzle clogging during the first tank you run off.
Always add BASIC-H last: Otherwise tank will fill with bubbles, thus hampering the filling up with water.
Mud holes: Another thing Larry has been experimenting with, the BASIC-H, is using it in water holes or wet places in fields. Depending on size of water hole, he pours BASIC-H around in water and in about three days he has found the water has disappeared and the ground can be worked and planted.
To Detoxify Soil Where Atrazlne Has Been Used
Use 1 qt. of BASIC-H to 40-5O gal of water per acre. Be sure not to pollute wells for drinking water. BASIC-H is excellent for stimulating earthworm activity.
Soybeans: Spray 1-2 pts of BASIC-H mixed in the herbicides and harvested five (5) bushel more beans to the acre. With this mixture, they were able to cut their purchase of herbicides in half. Use above mixture with 40-60 gal of water.
Corn: Use 1 qt of BASIC-H to 200 gallons of water with 1/2 of the usual amount of chemical weed killer to foliage spray the corn. Better corn crop and excellent weed control. Best results if sprayed before a good rain. Spray this 50-60 gal per acre.
One farmer used 1 pt of BASIC-H with 40 gal of water per acre. I sprayed my corn as soon as possible after it was planted. I believe BASIC-H as an organic material, opens the ground pores and lets water soak away fast in wet weather and holds moisture in dry weather; also making the nutrients in the ground more readily available for the plant. I have not used any commercial fertilizer the past 2 years with good results. Last year I had corn that made 120 bushels per acre with not fertilizer.
Generally, whether planting with mile, corn, beans or wheat, BASIC-H should be put on right ahead of the drill, the last time over the field, going in and spraying it on at night after it has been seeded or drilled and then putting it on before the crop comes up.
If you put BASIC-H on heavier than about two (2) quarts per acre with less than 20 gal of water per acre, you could quite possibly burn the tips of the leaves, if you put it on when the crop is very young. So don t put BASIC-Hon any growing crop until it is about 4-6 inches tall.
Alfalfa: Mr. Bob Gossen says yields of alfalfa have risen from three cuttings a year to four with the addition of BASIC-H. Use two (2) qts of BASIC-H per acre with 20-40 gals of water. REMEMBER: the more water you put on the better results you are going to get using it. Because the alfalfa roots grow so deep, they need deep down nutrient nourishment. They also applied BASIC-H to alfalfa fields and benefited 3 ways. They found that the alfalfa fields produced more bales, with a higher protein level, one field got an extra cutting, and had no sign of alfalfa weevil or spittle bug.
Jeff Plper, Avonmore, Pennsylvanla
Fertilizer was applied to a corn field according to a soil test requirement. We noticed that after the crop was up 6 inches, it stopped growing. We then applied one quart of BASIC-H to 50gallons of water per acre. Shortly after the BASIC-H was applied, the corn turned nice and green and started growing again.
Larry Lang, Soybeans and Wheat, Boaz, Alabama
In 1981 I was introduced to BASIC-H and used it on soybeans and wheat. l also used it with my chemicals as a wetting agent to cut my herbicide as much as 1/3 to 1/2. When I planted my soybeans I put a portion of the beans in with BASIC-H as a Soil Conditioner,cutting my chemicals to 1/2 the regular amount. I used Treflan - 1/2 pint incorporated with BASIC-H and experienced very good results. l also noticed where I used BASIC-H as a soil conditioner, my soybeans yielded five to eight more bushels of beans per acre. l plan on using BASIC-H as a soil conditioner on all my 400 acres of soybeans in 1982.
WARNING: When using herbicides and pesticides with BASIC-H DO NOT use more than 1 quart of BASIC - H per 100 gallons of solution and cut your chemicals in half. On corn DO NOT spray directly into the swirls. (1) Use drop nozzles. (2) For best results use formulas exactly as stated.
---
More information about Basic H is available as linked below: 



Efficient, powerful, safe, biodegradable, and economical, the world's most versatile cleaner.

Size: 30 gallon




Tackles over 40 microbes, including several animal viruses. Excellent choice for use in the kitchen, bathroom, or pet area. EPA registered

Size: 32 oz.




Efficient, powerful, safe, biodegradable, and economical, the world's most versatile cleaner.

Size: 5 gallon